Welcome to the home of The Rams Army, the supporter's club of AFC Croydon Athletic which is a member of the Southern Counties East Football League.  The club is owned by the supporters and was formed in 2012 following the demise of Croydon Athletic FC.
Our aim is to support the club in any way we can.  This generally takes the form of financial support, but we also aim to assist with ground improvements, repairs and development as well providing vocal support for the team.
2018 Christmas Draw Tickets Now Available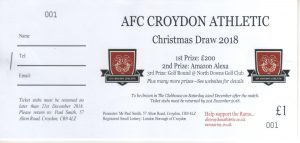 We are very pleased to announce that our Grand Christmas Draw tickets for this year are now available. At a cost of £1.00 each the 1st Prize is £200.00, 2nd Prize is an Amazon Alexa, 3rd Prize is a Round of Golf for up to 3 people at the prestigious North Downs Golf Club in Woldingham, Surrey.  There will be many other prizes of which the following are already confirmed:
A Bottle of Moet & Chandon Imperial Champagne
A Bottle of Corvoisier Brandy
Lego Star Wars Rey Buildable Figure
Bottles of Wine
Tub of Chocolates
Club Merchandise (the very popular Home & Away Scarf, Club Pen and Club Mug).
Check back here for a comprehensive list of prizes and winners.
The draw will be made in The Clubhouse after our derby match against Croydon FC on Saturday 22nd December, just in time for Christmas for the lucky winner of the cash prize.  If you are unable to buy tickets from the club you can buy them in £5.00 lots online via PayPal by visiting our online store.
Season Tickets On Sale
These are now on sale and a form is attached.   Prices have been held with Adult tickets at £95, over 60s and concessions at £65 and under 16s for £40 with Under 12s admitted free. Click Season Ticket Application Form 2018-19 to download an application form in PDF format.
The last club AGM was held on Thursday 29th June 2017 at 19:30 in The Clubhouse.  AFC Croydon Athletic is owned by the supporters/members.  All members are welcome to attend the AGM to find out how the club is doing and what plans there are for the future (there will be some exciting news about the pitch!).  If you would like to become a member you can use this form: Membership Form 2018/19 or contact us to arrange payment.  You can join on the night of the AGM but the meeting is only open to members.
Membership of The Rams Army is only £5.00 per season (£1.00 for under 16s) and is open to anyone.  Members of AFC Croydon Athletic are automatically enrolled as members of The Rams Army.  If you would like to become a club member please download an application form: Club Membership Form.  If you would like to join The Rams Army you can pay online or in the clubhouse on match days.  Your membership will run until the end of the 2018/19 season.  You can pay for your membership today by visiting the Store.